When Peanut Butter is Scarce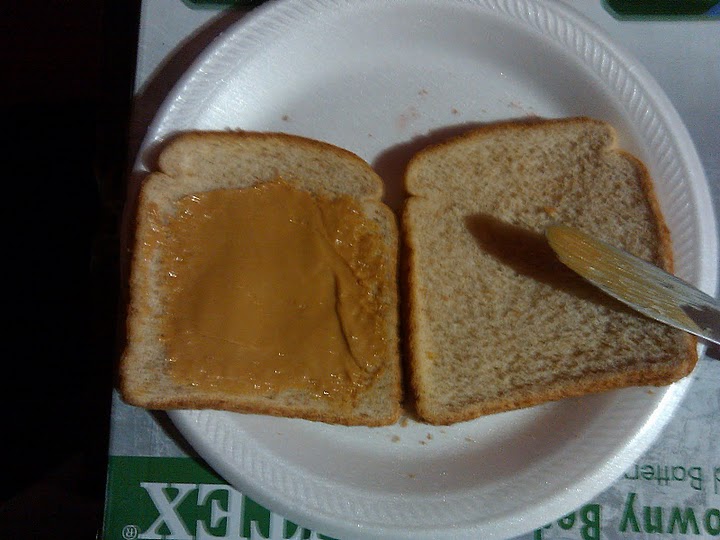 Circumstance is invariably affected by or affects our work and our mindset.  What does it mean in my life when peanut butter has become something of value?
What we have here is roughly one half of the most poorly constructed peanut butter and jelly sandwich one might ever see.  Not only is it on flimsy, wholesome wheat instead of tasty white bread, but there isn't even enough peanut butter to cover the whole slice, no matter how much coercion one might apply.  Any growing young boy would cringe at the sight and outright refuse such a lackluster spread.
Lets examine the setting a little further.  My disgraceful sandwich-in-progress sits pretty atop a styrofoam plate, which I did not buy, but inherited from a friend who left town.  The table is made of boxes, from purchases, some of which I did not make.  The contents of the sandwich, are also legacy items.  Half a jar of peanut butter and some wheat bread (which, normally I wouldn't be caught dead with) that had probably traveled between three and four hundred miles through 3 states in a run-down RV.  The jelly, at least, is my own, bought specifically as a pairing for the peanut butter I had come upon so luckily.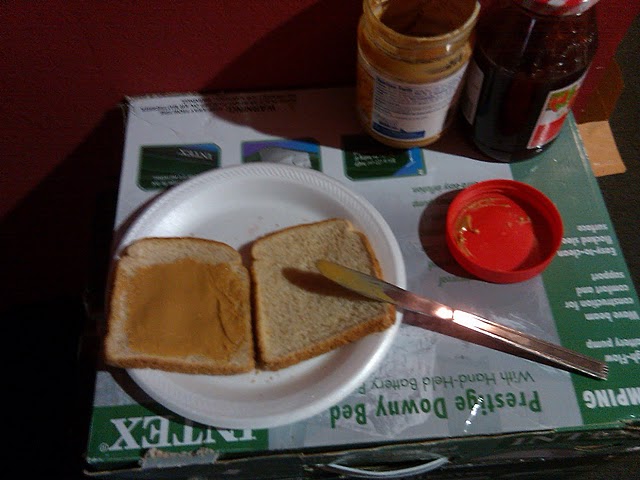 There are times in life where it pays not to take yourself too seriously, and realize the frivolous nature of certain standards.  I am not a growing boy (though I may at times wish to deny it), and this sight did not elicit that type of reaction; although it did set off a bit of introspection in me.
It raised questions of "what do we do," or possibly "what does it mean," in our lives when something, previously so commonplace, becomes a commodity?  I ate a peanut butter and jelly sandwich for lunch every day from K through 12 almost unfailingly, almost to the point where I couldn't taste it anymore, and here I am my first few months truly out "in the real world" and within 6 weeks, I fail even to meet my previous standards for what is mundane.  On one hand, it could be seriously disconcerting to note that I have reached the point of affecting the baser elements of my life, far beyond just removing the more luxurious elements of fine dining and plush linens.  On the other hand, it really only affects a few simple things.  If I am still eating, sleeping, and keeping decent hygiene, how much do the specifics really matter on aspects of my life that tended to be uninteresting anyways?
There are times in life where you will eat for pleasure, and there are times in life where you will eat for sustenance.
This meal is mostly definitely one for sustenance.  I don't know if you paid attention to the box-table, but the sandwich is on top of the box for a $20 air mattress that I also got recently from some transient friends heading back east, fortunately for me, without a majority of the items they had come here with.  Before that I was sleeping on about two inches of foam, blankets, and comforter – just about anything I had which was soft soft that I didn't need to keep me warm at night.  Needless to say, my first night on this beauty left me pretty well rested and ready to take the world on head-first.
But that's just it you see, my focus has shifted so completely from these minor details that I mostly couldn't care less.  And the results have been a bit staggering.  In my first week, on somebody else's bed, a couch, and the aforementioned floormattress, I programmed the most "fun" game I've ever made.  Two weeks later I created the website that you see right now.  About a month and I'm working on two of the most challenging code projects I've come across to date, and working on websites number 2 and number 3.  Essentially, in these few weeks which have been far from luxurious, I've generated more concrete value than most, if not all particular time spans prior to it.
Ultimately, which times are the more important?  For me, those times where I only eat for sustenance seem pretty near invaluable.  Those times when it doesn't make a difference if its Pepperidge Farm Goldfish crackers or calamari that I'm shoving in my mouth, those are more important because if I can't have an opinion, I free up that capacity to think on something else which will bring me more fulfillment.  Or maybe it doesn't make a difference because I've already used up every last drop of that discerning into something else, something more valuable.  Right now, I don't quite have the choice, but other times I have had options, but disregarded them.  I would take whatever distracted me least from my goal, so often I reached for the Goldfish crackers.  A conclusion I suppose this may point is that, often an inverse proportion of the former, another truth also exists:
There are times in our life where we will work for sustenance, and there are times in life where we will work for pleasure.
Now I don't mean to lead anyone to the wrong conclusion.  I am not under the impression that one situation should dominate the other in life.  I mentioned them both because I think they are both necessary and valuable.  It may be notable, however, that we often work for pleasure, so that we can eat for pleasure, rather that working for sustenance, so that we can eat for pleasure.  Though the eating for pleasure and working for sustenance coincide, it is really the working for pleasure which brings us to such a point where we may eat for pleasure.
Meta side-note: just take a look at the tags list for this post, I'm sure you can even imagine how strange, right?