Dubstep Helicopter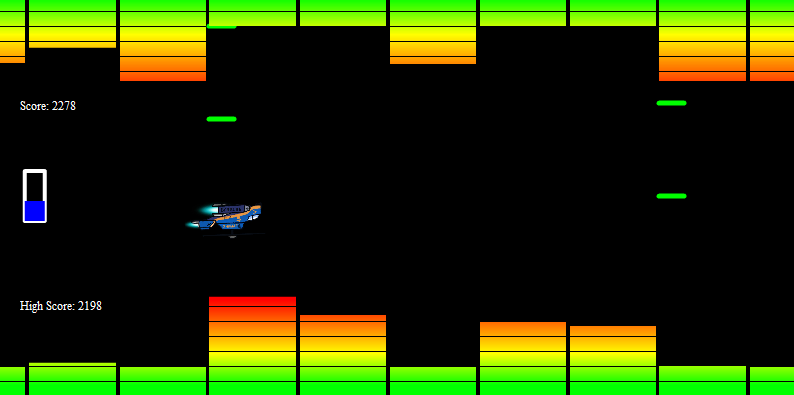 *UPDATE*
Dubstep Helicopter is now available on the Android Market!
Download Dubstep Helicopter (Android)
So this game is a twist on the old-school Helicopter (Jetman if you've treaded those dangerous url's on Facebook). You navigate a course of obstacles, throttling to accelerate up and leaving off to drop down. The catch is the music – all the terrain is generated based on the frequency of the music playing at that moment. Add in a few extra abilities: the ability to invert the entire level (and yourself), the ability to switch onto another track instantly, and pile in a killer soundtrack, and we've got ourselves a game, people. So here it is, Dubstep Helicopter.
Background: Alright, this so has been my biggest pet-project for the past couple weeks, when I'm not working. I started out making it for a final game in one of my classes and posted it for some friends to play. I got a lot of interesting feedback so I decided I'd keep up with it and see what people thought. I also wanted to make something a little more polished, if small. I've been doing a LOT of prototyping so it was about time for something a little cleaner, but still interesting. Another interesting tidbit about this game: it really just came out of the name, which I found to be amusing at the time – I probably only knew about 5 dubstep songs at the time I started the game. By the end I found myself sleep-deprived at 5am looking for more tracks for the game.
Also, this game features music from a fellow developer/writer/music-maker-extraordinaire, known to me as Scully, a.k.a Skull-E. I'm a big fan of that Church Rave song in the soundtrack (that's why its a default, haha). Check him and his most recent music out on Facebook Skull-E Other (very) notables: Lost Woods Dubstep Remix by Ephixa (that's right, Zelda), and 4corners dubstep remix of the Beatle's Eleanor Rigby.
Prompt: USC ITP 280, Final game, open-ended
Personal Goal: Use some polish. Use some music.
Game: DubStep Helicopter